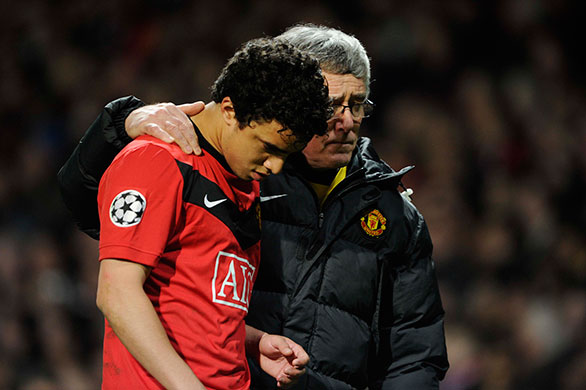 A distraught Rafael after getting sent off against Bayern
Since his arrival, Rafael was always going to inherit the right back position, but the big question was when would he be ready to play regularly in the position?
Towards the end of last season Rafa had become our regular right back, and seemed to have finally settled in at the position. But then the calamity against Munich occurred, which saw Rafael get sent off, a harsh decision but his foul was also a bit immature, and we ended up getting knocked out of the Champions league. The game would have been shattering for Rafael's confidence, also he just made one more start for the rest of the season.
The game against Munich was a harsh lesson, one that Rafa seems to have learnt from, clearly evident from the change in his game this season. Rafael's return to the first team this season came at an ideal time, we were struggling to keep a clean sheet and John O'Shea was struggling at right back. Watching him play at Right back was a
nightmare
, he looked uncomfortable, always getting skinned by opposition players. Rafael's return was seemed god sent at the time and also interestingly coincided with the return of some order to our defense.
Rafa
wasn't
the same player I remember watching at the start of last season, his exuberance and enthusiasm to get forward was now curbed, he was thinking before charging forward in attack. The defensive side of his game has improved a lot; a perfect example is the ease with which he managed to keep Gareth Bale at bay against
Tottenham
at Old
Trafford
. Rafael's defensive contributions since his return have been immense, he's made several crucial interceptions, last ditch tackles and blocks; becoming a vital cog in our back four.
Rafael has nailed down the right back position in the team with several assured displays so far. His contribution in attack might not be as much as it was earlier, but over time he's sure to learn how to moderate between the two, but for now, there is no doubt in my mind when I say that Rafael is our best right back!
The sending off against Munich might have cost us a place in the Semi's, but something good did come from that defeat, it probably taught Rafael a valuable lesson, one that has pushed his game on to a higher level and maybe that night wasn't a total loss for us?!
You can also follow the blog on Twitter at BTOT_MUFC